Employee Engagement Levels in North America Are Rising: What's Your Perspective?
Our engagement practice team collected some fresh data and is currently working on Engagement Updates that we will release this summer for both North America and Europe. As usual, this analysis prompts discussions and debate within our team. We would like to bring you – our readers – into the conversation to explore what is happening in your organizations.

Here's our proposal: We'll share a few of our preliminary findings below and we ask you to comment through the BlessingWhite Twitter or Facebook pages. You can also take the conversation off-line by sending us a message at Engagement@BlessingWhite.com .

We'll all learn something in the process, and your insights will be incorporated into our upcoming Engagement Updates.
And the data says…
More North American workers are Engaged. 41% of North American employees are Engaged now compared to 33% in early 2011. The number of Disengaged workers has shrunk from 18% to 15%. Across the pond in Europe, engagement levels have remained flat, with 30% of European workers Engaged and 18% Disengaged compared to 30% and 19% respectively in our last study.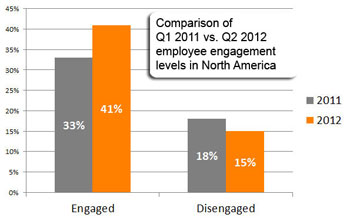 This isn't much of a surprise. Many employees have gotten salaries reinstated after recession-driven pay cuts. Raises are being discussed. Organizations' strategies have become less reactive, providing greater opportunity for alignment. Job openings and layoffs in the US are back to pre-recession levels. The debt crises in Europe are ominous, but not necessarily affecting North American workplaces… yet.

Less than half the workforce believes they have career opportunities with their employer. At 48% favorability, the findings are actually slightly more promising than they were in our last study (which found that 46% of North American employees saw career opportunities). Engaged employees are much more likely than their lesser-engaged colleagues to respond favorably but even so, only about two-thirds of Engaged employees say they have career opportunities. This is troubling because our research identifies career growth to be the primary reason people leave organizations.

Trust in senior leaders is up. Our research consistently reveals the challenges that executives have in earning the trust of their workforce. This year, 57% of North American employees say they trust their senior leaders compared to 52% in the last study. Meanwhile, trust in employees' immediate managers rose slightly from 72% to 74%.
What do you think?
Please join us in exploring this topic: email us at Engagement@blessingwhite.com or let us know your thoughts on Twitter using #NAUP.
Why do you think employees in your organization may be more engaged?
What has your organization done to provide career development and the reassurance that employees have a bright future with you?
How are your senior leaders doing at earning the trust of your workforce? What's the secret to their success (if they've had some)?
Stay tuned…
We look forward to continuing our exploration of employee engagement this summer with you. You can register for our webcasts in July and August (in collaboration with Globoforce and hosted by HR.com), where we'll present more insights from our research, and stay tuned for additional teleconferences on engagement-related issues. Let us know what you're doing to create a more engaged workforce.
Refresher: The 5 Levels of Engagement
The employee engagement model we use in our research and in client work distinguishes between the following five levels of engagement. You can view an animated description of the entire model here [http://www.youtube.com/watch?v=gZ3wxgog4nc].
Engaged: These employees are contributing fully to the success of the organization and find great satisfaction in their work. They apply discretionary effort and take initiative.
Almost Engaged: These employees are reasonably satisfied with their jobs and are among the highest performers.
Honeymooners & Hamsters: Honeymooners are new to the organization or role and have yet to become fully productive. Hamsters may be working hard but focused on the wrong things -- or they may be hardly working. The outcome is the same: maximum satisfaction for them and minimum satisfaction for the organization.
Crash & Burners: This group is the opposite of the one above. They are high performers, delivering what the organization needs, but disillusioned or not achieving their personal definition of success.
Disengaged: Disengaged employees are the most disconnected from organizational priorities and are not getting what they want from their work.
For more information on how BlessingWhite can help your organization reach the next level, call 1.800.222.1349 or email info@blessingwhite.com.

---
Copyright 2012 BlessingWhite, Inc.
You are receiving this email because you have previously signed up to receive mailings from BlessingWhite Inc., or because of a past or current business relationship.Click here if you don't wish to receive these messages in the future.

BlessingWhite North America 23 Orchard Road, Skillman, NJ 08558-2609
PHONE: 800.222.1349 or 908.904.1000 FAX: 908.904.1774
BlessingWhite Europe Burnham Lodge, 93a High Street, Burnham, Buckinghamshire SL1 7JZ United Kingdom PHONE: 44(0)1628.660397 FAX: 44(0)1628.606386
BlessingWhite Asia-Pacific PO Box 1122, Box Hill, Victoria 3128, Australia PHONE: 61.3.9899.5233 FAX: 61.3.9899.5233